DO NOT MISS A VISIT TO THE ANTIK COLONY BOUTIQUE WHEN YOU ARE IN VICTORIA, WHERE YOU MUST SHOP FOR YOUR MOST VALUABLE GIFTS AND SOUVENIRS OF THE SEYCHELLES!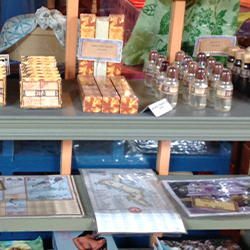 An assortment of gifts and souvenirs. Among the many articles available, cinnamon quills and fresh vanilla pods in precious boxes, spices in sachets and boxes, Creole jams.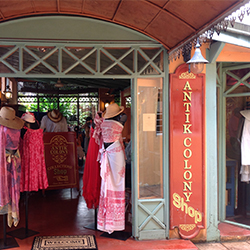 Discover the charm of the forms, flavours and tastes of the tropics; Pay a visit to our boutique to have a cultural image of the Seychelles; You will find a most impressive variety of products all made with local raw materials. You will be ravished by their "Old Seychelles" look.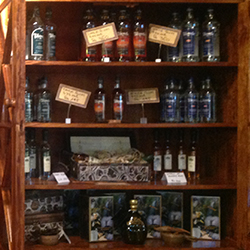 More articles found in the Antik Colony shop: Among others, a picture of the "Spice Collection" series and a box full of surprises.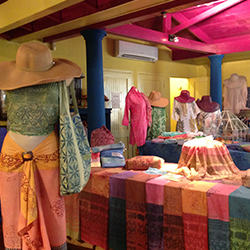 100 types of pareos in linen, coton, all hand made and exclusive designs of Seychelles!
Capture the atmosphere of the tropics
A most impressive variety of products, all made from absolutely natural materials, selected and processed by the company's research and design centre: these are the products offered by Antik Colony, a consolidated brand in Seychelles. Each item is the result of a wide-ranging, in-depth search for vegetable fibres, berries, flowers and other "pieces of nature" which are all processed using ancient techniques. Lastly, a touch of sophisticated creativity transforms each object into an envoy of the beauty of these islands. Antik Colony, a constant source of new ideas, seeks out and re-elaborates tradition and recovers ancient styles of which all traces had been lost. And all this is done, of course, with the utmost respect for the ecosystem.
Pareos, bags and accessories decorated with ethnic designs and printed using the batik method, evoke the warm colours of the tropics, just as the perfumed essences and cosmetic lines transmit the fragrance of local flora. The soap bars, the spices or the blends of teas are also all absolutely genuine and pure, with no added chemicals. They are available in sophisticated packaging that evokes the "Old Seychelles" style which inspires the furnishing of the Antik Colony boutique. When you enter this boutique, you are immediately captivated by its colonial atmosphere.
Kindly note when the Pirates Arms building was demolished, we obviously had to close down our shop there and we are still in the process of searching for new, suitable facilities for our exclusive shop.
In the meantime, you can buy all our products at the STC duty free shop in the departure lounge at the Seychelles International airport.
We can also mail any of our products to most destinations in the world.
Please contact us directly on the following address:
Antik Colony Pty. Ltd.
Room 46, Second Floor,
Kingsgate House, Victoria, Mahe, Seychelles
Phone. +248 4321.700 | Moblile +248 2712321
E-mail: rolfini@seychelles.sc